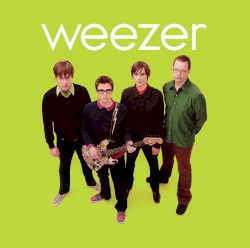 Album published in 2001 (released 2001-04-15)
It has an average rating of
Description
Yet another self-titled CD. The songs are similar in style to their previous works. A good mix of alternative/pop/whatever that tends to get its hooks into you whether you like it or not. As per usual, their videos were rather comical (and well done)... the first being the one with the sumo wrestlers for "Hash Pipe".
Tracks
1. Don't Let Go

3:00

2. Photograph

2:19

3. Hash Pipe

3:07

4. Island In The Sun

3:20

5. Crab

2:35

6. Knock-Down Drag-Out

2:08

7. Smile

2:39

8. Simple Pages

2:57

9. Glorious Day

2:41

10. O Girlfriend

3:50
Reviews
This disc has a few songs that really stand out for me, but overall I can't say it's one of my favorite CDs or anything. It's still worth picking up, though.