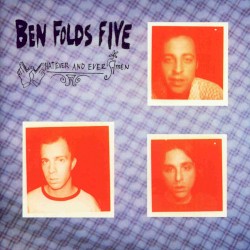 Album published in 1997 (released 1997-03-18)
It has an average rating of
Description
Their second CD. It has one of their biggest hits ("Brick") as well as a few other noteworthy tunes.
Tracks
1. One Angry Dwarf and 200 Solemn Faces

3:52

2. Fair

5:55

3. Brick

4:43

4. Song for the Dumped

3:40

5. Selfless, Cold and Composed

6:10

6. Kate

3:13

7. Smoke

4:52

8. Cigarette

1:38

9. Stevens Last Night in Town

3:27

10. Battle of Who Could Care Less

3:16

11. Missing the War

4:19

12. Evaporated

5:41
Reviews
This is one of my favorite CDs (which is funny since this is one of my favorite bands). They change pace extremely well on this album; they move between slow ballads (e.g. Brick) and ripping piano on tunes like Song For the Dumped. A must have CD in my book (er, web page).
Twenty-something angst with enough catchiness and originality to make it a classic.