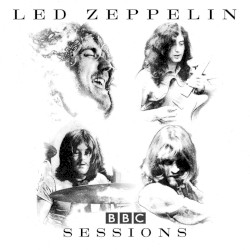 Album published in 1997 (released 1997-11-11)
It has an average rating of
Description
Two disc collection of live radio performances from 1969. Many songs from the first two albums are on this set as well as others that were never released and extended jams that didn't fit on a traditional album.
Tracks
1. You Shook Me

5:15

2. I Can't Quit You Baby

4:23

3. Communication Breakdown

3:12

4. Dazed and Confused

6:41

5. The Girl I Love She Got Long Black Wavy Hair

3:03

6. What Is and What Should Never Be

4:20

7. Communication Breakdown

2:41

8. Travelling Riverside Blues

5:11

9. Whole Lotta Love

6:13

10. Somethin' Else

2:07

11. Communication Breakdown

3:05

12. I Can't Quit You Baby

6:20

13. You Shook Me

10:19

14. How Many More Times

11:50
Reviews
While the 18:36 version of Dazed and Confused is a little much for me, the album contains my two favorite Zepp songs that are not available anywhere else. Perhaps more than any other collection, Zeppelin masterfully showcases their blues roots here, even doing some Robert Johnson classics.