The Fellowship of the Ring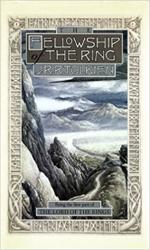 Book published in 1954 (released 1954-07-29)
It has an average rating of
Description
First book in the Lord of the Rings trilogy
Quotes (1)
"All that is gold does not glitter; not all those that wander are lost."
Reviews
Ah, the start of the epic trilogy. He starts rather slowly, laying the foundation of the story: a brief history of the ring, as well as a good understanding of hobbits (how they live, how they think, etc.).
I just re-read this one too, I remember it started slowly, but wasn't as slow as when I read it in 6th grade. The movie was closer to the book than I expected, pretty amazing.